Hair by Jacque
Inver Grove Heights

612 508-7527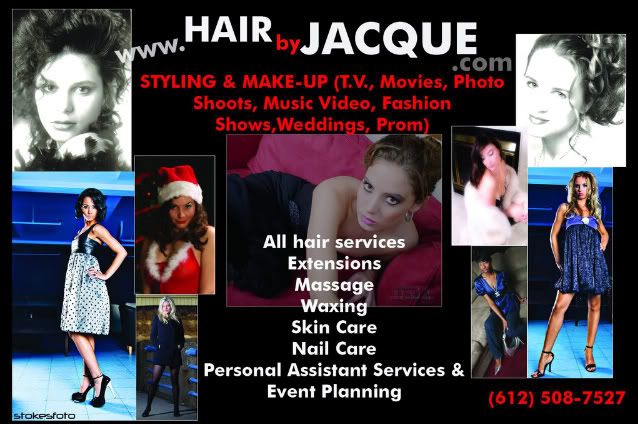 Lead Stylist &
Make-Up Artist for:

Print/Film/TV/Runway/Music Video
Gift Certificates Available!

Full Service Salon and Spa
For Women, Men and Children.
Located in Maplewood, MN!
(Travel for Television Projects, Film, Events, Music Video.)


612 508-7527

Check the web site each month for new specials.
Schedule now for Photo shoots, Video projects, Prom or Weddings!
Gift Certificates Available!
( can be made out for any amount or for any service)
please use paypal address jacque.schauls@gmail.com
---


DESIGNER CUTS AND STYLES

Woman's Haircut and Style $30.00
Men's Haircut $20.00
Student Haircut (High school) $20.00
Children's Haircut (under 12) $10.00
Blow Dry and Style $30.00
Formal Style $50.00
Haircut with another hair service $15.00
---

COLOR
Single Process $55.00
Double Process $75.00
Full Foil $80.00
Partial Foil $55.00
Paint Highlight $30.00
Paint Color $35.00
---

Textures

Perms or Curl $75.00
Spiral Perms Above Shoulder $95.00
Relaxers $65.00 ( Includes haircut and Style with hot iron)

Intensive Conditioning Treatments

De Mineralizing Treatment $15.00
Re- Structuring $15.00
---

Massage Services


Classic Massage 1 Hour $100.00
Sports Massage 1 Hour $120.00
On the go ½ Hour Neck and Shoulder only $55.00

Check the bottom of the page for package prices

Gift Certificates Available!
At your location: Call for quote
---


Waxing Services

Lip $14.00
Eyebrow $14.00
Chin $14.00
Side of Face $17.00
Arm Wax $25.00
Underarm Wax $25.00
Bikini Wax $30.00
Half Leg Wax $40.00
Full Leg Wax $65.00
Back Wax $15.00 & up
---

Facial Services


The Classic Facial 1 Hour $60.00
Deep Cleansing Facial $65.00
Gentleman's Facial $65.00
The above includes neck, shoulder, arm and hand massage
On the go ½ Hour $35.00 Facial only
Hair Styling/ Make-up One look Off site $100/hr (photo shoots, weddings, video....) There is a discount for more than one person.
Make-up with another service is $10
Make-up and Lesson Alone is $25
---

Nail Services

Manicure $30.00
Pedicure $45.00
French Polish $23.00
Polish Change with Buffing $12.00
Full Set $65.00
Back Fill $38.00
Nail Repair $8.00
Gift Certificates Available!
---


Hair Extensions

Micro Ring/Link System

This system uses NO chemicals

$15/extension (includes hair)
$6/extension to take out

$8/extension to take out and re-do without new hair

100+ remy Human hairs per extension

Must have a consultation to determine how many you will need. Please
call for details



The source of top quality human hair :

Much confusion exists in the marketplace about the source and quality of
human hair for extensions and wigs. Let's be realistic. European woman
are not in the habit of shaving their heads for either money or
religious conviction. The vast majority of the world's supply of human
hair comes from China or India. Both countries view it as a socially
accepted tradition.

While human hair is a replenishable commodity, the supply is not
considered unlimited. Imagine an Indian woman giving as a gift of
thanksgiving, her long and flowing hair. It will be years before the
gift can be given again. It is a precious commodity and as such, high
quality, Indian Remy hair represents a small fraction of the current
world market.

For years, Milan has personally developed trusted sources for human
hair. While we process hair in China, our hair originates from the
beautiful sub-continent of India. Hair is cut and graded in populated
trade centers rather than village settings. This allows us to verify
Remy quality and maintain stable quantities.

After the hair is purchased, it moves to our processing plant in China,
where we employ an unusual method to extract the original color from the
hair. technicians protect the hair using a passive, time sensitive
process to avoid damage from harsh chemicals.

Our hair is clinically washed and dried in humid warming tunnels to
prepare the hair for the next step. then colors the hair to 35 different
shades. And finally, in the most important step, we revitalize each
strand through a process known as MoisturGap infusion, where natural
conditioners and moisturizers are restored to each strand of hair.

Remy quality, combined with Milan's unique processing, guarantees the
finest results available.



If you prefer weft(glued-in) $40(not including hair)

sewn in weft (Call for quote)

Gift Certificates Available!

Clip-in Extensions. $40/piece About 2"wide/18"long. You will need at
least six clip in extensions for thin to medium hair. Let me know the
color that you would like when you order. Lt Blonde, Dk Blonde, Lt
Brown, Dk Brown, Black. This is Human Straight hair that you can
color/style as you would your own hair. I can order other colors but
call to discuss.
You may use the tools on the top of the page to pre-pay for any service or product on paypal using your credit card, debit card, checking account. You do not need to have a paypal account for this option.

Credit cards are NOT accepted at the salon
Gift Certificates Available!
Key Stylist/Make- Up Artist
Location Rates: Includes Kit
Starts at $150 / Hour for 1970 - 2008 time period street type look and formal
Any other time period must be discussed. This price does not include any hair pieces/wigs/extensions, Chemical work such as hair color or permanent waves, additional facial hair..
Scheduling: Women-Allow 1/2 hour per person for street look and 1 hour for formal look.
Men- Allow 20 minutes per person
Any other effects, bruises, blood, scars, aging, additional hair for head/face..... will take longer and have to be scheduled. ( I only do limited effects make-up)

Any body make-up, cover up for tattoos, scars.... will have to be discussed and scheduled.
Any other services such as nails/massage are not included and will be added at the hourly rate.

There is a straight day rate of $1000/day up to 12 hours
1/2 day @ $600/ day up to five hours

Please note:
This price does not allow for an assistant or additional stylists/MUAs.
Non Union
All make-up and styling tools are provided by me and are hypoallergenic/sanitized
I cannot be responsible for any reaction or non blending/shine or any other undesired effect due to an actor wanting to use their own products.
All times are good estimates based on experience but each project, set location and actor is unique. After the first two days of shooting, all time lines should be very accurate.

One table, two chairs, electrical outlet, lighting should be the same each day/time in the styling/MUA area to provide the very best results. Photos of each actor will be taken each day to provide accuracy.

The photos taken by me will remain the property of Hair by Jacque and may be used for promotion or advertising. Any photos taken of me must be authorized before being used for any purpose.
Credits to include: Hair Styling by: Jacque Schauls www.hairbyjacque.com
Make- Up by: Jacque Schauls www.hairbyjacque.com
Jacque
612 508-7527
Label Services/Digital Distribution/Physical Distribution
Personal Assistant to Celebrity, Executive or Professional Athlete:
Personal Assistant AND: Online marketing, Booking, PR, Promotion, App Development, E-Blast to over 200K Music and Entertainment Professionals, Online and physical distribution, Social Site Management, HAIR/Make-up, Massage
http://codagroovesent.ning.com/page/services-1
...

Jacque 612 508-7527


CODA~GROOVES~ENT
www.codagroovesent.ning.com
http://twitter.com/hairbyjacque
http://www.facebook.com/people/Jacque-Schauls/665434444
www.hairbyjacque.com
http://www.linkedin.com/in/jacqueschauls
www.myspace.com/hairbyjacque
www.myspace.com/codagrooves
SPECIALS!
GOLD Package $180
One Hour Full Body Relaxation Massage
Pedicure
Manicure
Facial
SILVER Package $75
One Half Hour Neck and Shoulder Massage
Hair Cut, Shampoo and Style
MASSAGE Only Packages:
Three - One Hour Massages - $245.00
Five - One Hour Massages $375.00
Ten - One Hour Massages $750.00
CUSTOM Gift Package Certificate:
Include any THREE services -at $15% OFF!!!